Sous Vide Pork Belly (10th Street Supper Club)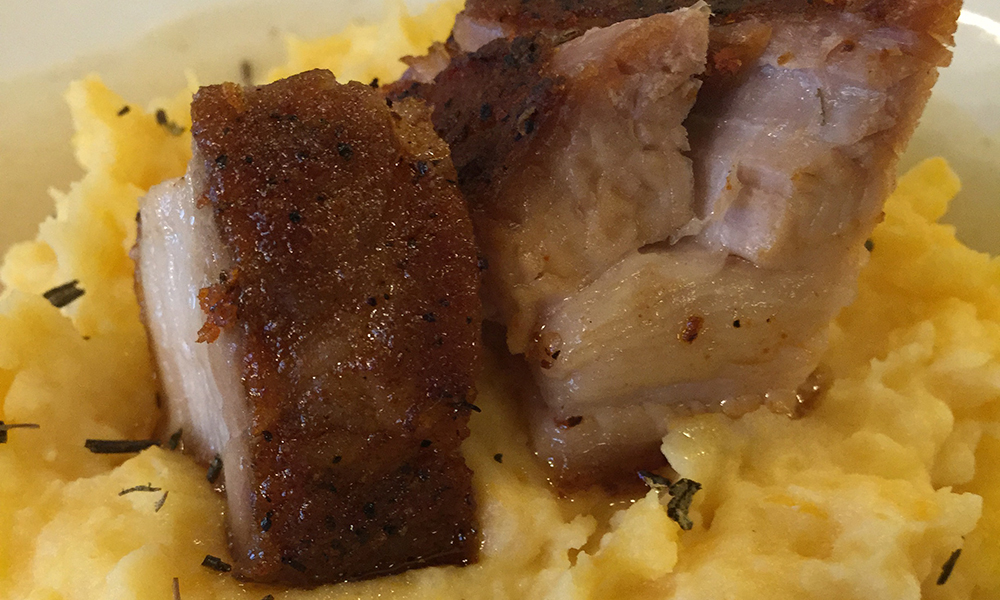 For September's Tenth Street Supper Club, Chef Roger and I did some great things, but my hands-down favorite was my sous vide-cooked pork belly. It's pretty simple, combining a nice dry rub, a short, moderately-low temperature smoke, and an afternoon in my meat aquarium.
Dry Rub:
1 Cup kosher salt (coursely ground)
1 Cup brown sugar
1/8 Cup cayenne pepper
1/4 Cup sweet paprika
1/4 Cup garlic powder
1/4 Cup onion powder
1/8 Cup black pepper
Prepare the pork belly by removing the skin (if needed), leaving as much of the wonderful fat as possible. Cover both sides with the dry rub, wrap in plastic wrap or aluminum foil and allow to rest for about 30 minutes.
Smoke at 170°-200°F for about 2 hours.
Remove from the plastic wrap or aluminum foil, and vacuum pack the belly. Submerge in a 157°F water bath for 6-8 hours.
When serving sear the cap of the belly using a blow torch or a very hot oiled skillet.